Here's What Happens In The Original, Terrible 'Game Of Thrones' Pilot That Never Aired
"One of the most painful experiences of my life."
That's how David Benioff once described seeing friends test-screen his and co-showrunner Dan Weiss' original "Game of Thrones" pilot in 2010. After that viewing, more than 90 percent of the episode was supposedly reshot before it aired on HBO in April 2011, eventually leading to the phenomenon that the series is today.
But that first terrible, horrible, no good, very bad pilot ― called a "piece of shit" by the showrunners' screenwriter friend Craig Mazin ― never saw the light of day. It became legend, something that could live only in Old Nan's stories. Or so we thought.
It's an oft-forgotten fact that George R.R. Martin, whose A Song of Ice and Fire novels serve as inspiration for "Game of Thrones," has been depositing old copies of his writing to Texas A&M's Cushing Memorial Library in College Station for more than two decades. He is said to have fallen in love with Cushing's sci-fi collection and its archival system during visits to AggieCon as far back as the 1970s and decided to make the quiet spot in Texas a home for his massive catalog of original manuscripts.
The resulting collection at the library takes up multiple walls, the first of which is properly called the Wall. It's a collection so vast, it'd make Samwell Tarly's head spin, staffed by a team of dedicated librarians and professors who serve as a kind of Night's Watch. Among the archive's many files are manuscripts for the A Song of Ice and Fire novels, and ― as I learned during a trip to Texas over the summer ― a box containing a production draft of that painful "Game of Thrones" pilot.
An early version of the pilot script supposedly surfaced online years ago, but the script's authenticity was never officially verified. No one seemed to know how similar it was to the rejected pilot that HBO shot or how much it differed; scripts often go through various rewrites, so the mysterious version floating around online could have been from any phase of revisions. 
I had three days to spend in Texas, but it took only five minutes to realize the script online and the one at Cushing are different. There are reasons to believe that the version in Texas is similar to the pilot script that HBO shot: The production draft at Cushing is dated Oct. 22, 2009, right around the time the unaired pilot started filming. The Cushing script credits the unaired pilot's original director, Tom McCarthy, who was later replaced in reshoots by Tim Van Patten. Plus, in terms of content, the Cushing script contains storylines that have been rumored to be in the unaired pilot script (as we'll get into below) ― key story departures, dialogue alterations and location changes that cast the Seven Kingdoms in a different light.
"Game of Thrones" isn't returning until April 2019, but fans are already bracing for a final season full of callbacks to early moments in the show, which will complete its eight-year "massive jigsaw puzzle," as it was described by Nikolaj Coster-Waldau, who plays Jaime Lannister.
In advance of the season premiere, we exhaustively rummage through the secrets hidden in the pilot script from Martin's collection, involving everything from an unreleased Cersei Lannister moment to a really drunk Jon Snow making a scene. Here's what Westeros might have looked like if that "piece of shit" pilot had aired:
The Cersei scene that might ruffle some feathers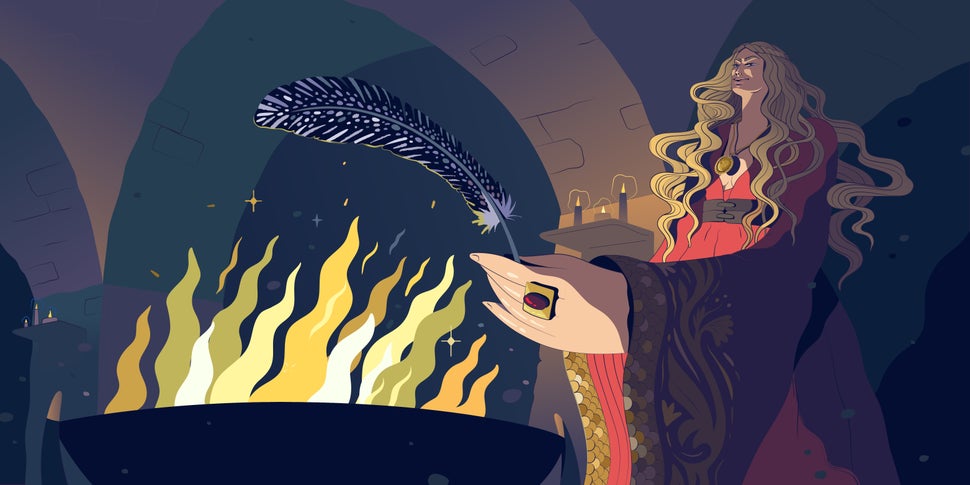 Let's begin with a defining scene between King Robert Baratheon and Ned Stark in the Winterfell crypts.
The scene that aired on HBO is slightly different from the scene in the Cushing script, but the gist is the same. Robert asks Ned to be his new Hand of the King, a position left open after Jon Arryn's death. That's when Robert places something small but highly symbolic on a statue of his onetime betrothed, Lyanna Stark: a feather.
And that pretty much sums up the sequence you saw in Season 1:
But in the script found in the Cushing library, Queen Cersei plays a pivotal role in this exchange's aftermath ― so much so that her involvement would have changed a Season 5 episode, the recent Season 8 teaser and possibly more. 
The following scene is written into the pilot script found at Cushing and involves Cersei visiting the crypts right before the feast at Winterfell:

Cersei exits the crypts, crosses the courtyard and walks into the antechamber between the kitchen and the Winterfell great hall. The celebration for the king's arrival is underway, and servants are rushing past her with food. The queen's handmaidens make adjustments to her outfit and remove her heavy fur.
Then Cersei reveals something she has inside her sleeve: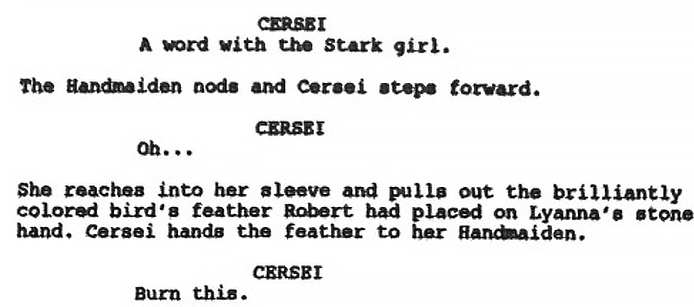 Why does it matter?
The episode that aired on HBO gave no indication that Cersei was aware of the feather Robert placed on Lyanna's statue, let alone that she removed it to be burned.
Without this intervention, the feather goes on to play an important role in HBO's recent Season 8 "Game of Thrones" teaser, falling to the ground as Jon Snow walks by and freezing when a wave of cold air rolls over it.
Even before that, the feather was featured in Season 5, Episode 4, "Sons of the Harpy," when Sansa Stark visits the Winterfell crypts and comes across the token Robert placed on the statue years ago.
The series' creators, Benioff and Weiss, acknowledged the feather's station in the crypts to Making of Game of Thrones, explaining that, after all this time, the feather would surely still be there because there "hasn't been a janitorial crew going down and vacuuming."
"We thought it would be kind of a great thing," they added, "to have Sansa wondering about it."
Why Sansa? And why a feather?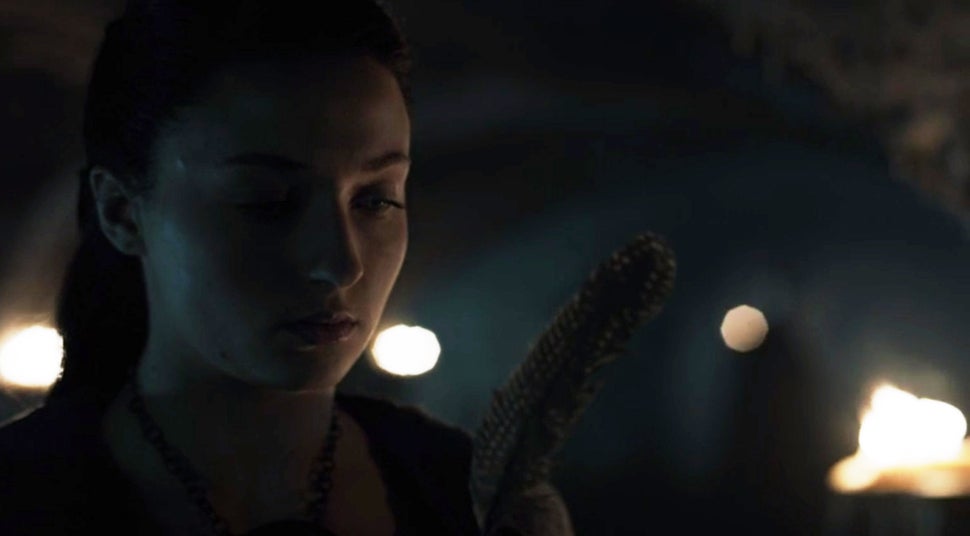 If you've been living under a Casterly Rock your entire life, you might've missed the curious role that birds play in "Game of Thrones." There's Varys' spy network of "little birds," there's the High Sparrow, there's the Three-Eyed Raven, and then there's Sansa, who is often referred to as a "little bird" or "little dove." These characters have a few things in common: They're misunderstood, underestimated and often hold powerful information.
The feather could hint at how Lyanna, too, was a misunderstood character, another little bird. It could also serve as a symbol for her secret, her child, Jon Snow.
Now remember, in the Season 5 episode in which the feather reappears, viewers still think Lyanna had been kidnapped and raped by Prince Rhaegar. It hadn't been revealed that she and Rhaegar were actually in love, married and had a baby — a secret that, with her dying breath, she made her brother Ned promise to keep.
The connection to Jon is reiterated in that Season 8 teaser when he looks back at the feather. Could Cersei's burning the feather in the scrapped pilot script have been a hint at something else on the way? Will she do the same to Jon?
With Dany's dragons flying around and Cersei having blown up part of King's Landing with wildfire, it's not much of a stretch to imagine a fiery run-in between Cersei and Jon in the future.
The cut feather scene is perhaps the first small hint of Cersei's penchant for burning her enemies' "cities to the ground," as she likes to say. Considering HBO's "Dragonstone" teaser from late in 2018, which shows a fire engulfing the signature Lannister lion, more flames are likely in the Lannisters' future. And, just possibly, Jon Snow's.